NEWS
Autumn term 2022 classes begin Wednesday
7th September
Committe Meeting
13th October 2022
---
OUR VENUE

Our classes are at
OAKVALE United Reformed Church, Broad Green
Liverpool L13 4AD

(by the Rocket Flyover)

The entrance is in
Broad Green Road
(See Map and get directions in Find Us)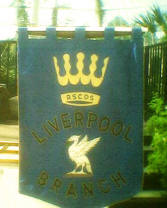 rscds
Liverpool Branch
Welcome to our branch web site
LATEST NEWS
Due to Covid restrictions, celebrations for our 70th Anniversary were cancelled. We did manage however a scaled down Christmas party and we had a celebration cake to mark our belated Anniversary on the last evening in May 2022. The Branch members were also given a book of dances which they had devised & included accounts of how Scottish country dancing had come into their lives. The books are not for general sale but the committee wanted to provide a keepsake to replace our cancelled celebrations.

Policy & Risk Assessment for Covid 19
All classes & events are subject to change if the venue or government guidelines change.
Anyone feeling unwell in any way should NOT come to the class or event.
Hand sanitiser will be available & hand washing before the start & between dances is advisable.
Anyone contracting Covid 19 is required to inform our Secretary as soon as possible.

----------------------------------------------

If you are already a Scottish country dancer you will find details of our classes and events here, just click on the bar at the top of the page. Anyone looking for a fun way to spend an evening — keep on reading.
Starting at 7pm on Wednesday evenings we offer classes for anyone who would like to improve their knowledge and expertise of Scottish country dancing. No need to bring a partner though a friend is always welcome, come along and enjoy an evening of dancing to lovely music, both traditional and modern, a sure way to make you want to dance. Our members are a friendly crowd and will make you very welcome.
Bring along is a pair of soft shoes and your sense of humour! Come and enjoy an evening of dancing followed by a cup of tea, then go home satisfied you have had some exercise as well as some fun.
---
2011 saw the Branch celebrating its 60th Anniversary. We started our celebrations with a party on 9th February, the actual date of our first class in 1951, how's that for timing! Some of our past members joined us on that evening as well as some invited guests who may have found our hobby a little energetic!!
We followed the party with a dance on the 12th February 2011, to celebrate in a more refined manner!
We continued our Anniversary year with a Ball at the Carnatic Hall, dancing to Marian Anderson & her Band. The tickets sold so well that we had a reserve list!

You can view a gallery of photographs from the Diamond Jubilee Ball by clicking on the "Diamond Jubilee Ball" link.

---
Website design by D A Haynes